INNOVATION
At JANTSA we believe that innovation is not limited to the quest for technologically superior products. Three domains of Product, Process, and Business Model innovation lie at the core of our global success.
In terms of Product Innovation, JANTSA is committed to world-class wheel design and cutting-edge engineering. We reflect this in ever-increasing investments in technology and technical cooperation with our customers and research institutions. JANTSA was recognized by the Turkish Exporters Assembly as the 15th leading Turkish firm in terms of a number of R&D design studies. With 5% of our revenue dedicated to research and development, we are among the leading Turkish firms in terms of revenue expenses and a number of R&D projects. More than 40 years expertise in wheel manufacturing helps us to anticipate market needs and offer our customers some of the most innovative solutions in the industry. This is further enhanced by our cross-industry expertise in both off- and on-road applications. With constantly increasing requirements of our customers to safety, durability, weight, precision, and appearance of wheels we consider rapid new product development as one of our core competences.
Likewise, we ensure our long-term competitive advantage by on-going Process Innovation. Thus, within OPEX initiative, numerous JANTSA employees actively implement new production, service, and delivery methods. Although, these incremental improvements usually stay behind the scenes, they are crucial for our cost and quality leadership.
Fueled by the disruptive leadership style of Cercioglu family, JANTSA stands for the Business Model Innovation, which no other wheel manufacturer can match. The world economy and component manufacturing are changing at ever increasing pace. This requires review of established success recipes and traditional sources of competitive advantage. Culture of strategic agility and short decision paths helped us to shake age-old wheel manufacturing industry and break into the globally leading positions.
As one of the fastest growing companies in the industry, JANTSA is driven by continuous innovation. We aim to provide creative wheel solutions exceeding the highest expectations of our worldwide customers. JANTSA is a future-driven and people-centered company, with all innovations starting and evolving with customer needs in mind.
NEW PRODUCT DEVELOPMENT
With over 300 sizes and 7000 wheel designs JANTSA is a single-source supplier for one of the broadest ranges in the wheel manufacturing industry. Such portfolio is a result of rigorous process of transforming market opportunities into serial products.
Development of every new wheel starts from the generation of ideas, which help us to satisfy customer requirements, address market trends, or find new solutions to unmet needs. After analyzing the options, all ideas and data are transferred into the most appropriate solution.
When it comes to new wheel development, our engineering team submits a 2D model of the product conforming to design guidelines specified by ETRTO, TRA, EUWA, SAE, JIS and TS4364 standards. Afterwards, initial feasibility analysis is made in order to determine necessary machinery, tooling, and materials.
After preparing 3D Model, operating conditions of the wheel are simulated through calculations of Finite Element Method (FEM). This technique helps us to accelerate development of products with optimum performance / material consumption ratio.
Upon verification of 3D model through FEM, we design and produce tooling in JANTSA facilities. Subsequently, first prototype is produced and tested in our laboratories and/or in real working conditions.
Finally, upon affirmative test results, we move on to serial deliveries of new products to our customers.
R&D TESTING CENTER
JANTSA has one of the largest R&D centers among European wheel manufacturers. This government-certified facility is operated by highly experienced engineering team. Five fatigue testing machines, mechanic tests laboratory, and metallographic test site ensure that every wheel we produce satisfies the strictest customer requirements.
Our equipment allows us to perform Cornering- Fatigue-Tests (CFT) and Radial-Fatigue-Test (RFT) according to EUWA-3.11/3.12/3.24 for wheels up to 52", which only a few wheel manufacturers worldwide can match. One of the testing machines was developed in close cooperation with the DLG (German Agricultural Society). This joint project resulted in a class by itself testing system, simulating the toughest real-world operating conditions. Our R&D capabilities are further enhanced by the biaxial machine, which matches the stringent standards of the on-high wheel testing. One of the testing machines was developed in close cooperation with the DLG (German Agricultural Society). This joint project resulted in one of the most innovative testing systems in the industry, simulating the toughest real-world operating conditions.
All in all, our state-of-the-art R&D center assures that our customers receive serially approved products, which exactly match the performance requirements in terms of fatigue resistance.
OPEX
At JANTSA, operational excellence (OPEX) stands for our constant drive to maximize customer value through on-going and company-wide efficiency gains. Our vision is ambitious: to be the leading wheel supplier by delivering high-quality and technologically superior products at the best cost and within the shortest time, while maintaining sustainable growth. JANTSA's OPEX model consists of the following pillars
All in all, we aim to eliminate the following 8 wastes from our processes:
Overproduction: We follow the Just-in-Time philosophy by producing only what is required and when it is required by our customers.
Over-processing: We purposefully avoid unnecessary processes, which do not add value to customers.
Inventory: Our raw material stocks include only those inventories, which are required to complete active customer orders.
Waiting: We aim to become a non-stop factory by designing processes, which ensure continuous flow, quick adjustments, and predictive maintenance.
Defects: We aim to gain on-time shipments and competitive costs by eliminating production repair rates and additional works.
Transport: We constantly perfect system and machines in our factory, used for transportation of goods, semi-finished products, and parts.
Motion: We eliminate every action, which does not create added value for the final products by optimizing workplaces for blue- and white-collar personnel
Talent: Our employees are motivated and empowered to realize their potential and conduct work, which creates true impact while utilizing each unique skillset.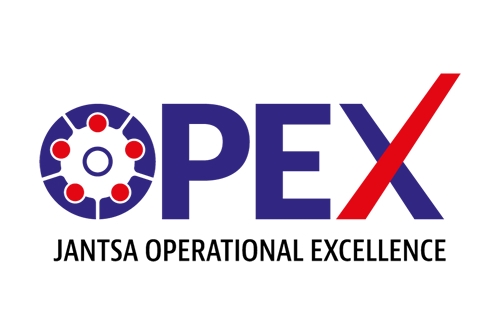 MAS PROJECT
As a company dedicated to constant process innovation, JANTSA has successfully completed the pilot implementation of MAS Production Management and Automation System. This project is a part of our Industry 4.0 strategic initiative, aimed at real-time monitoring of key production parameters.
Within MAS project signals from production floor and stock area are collected and recorded in the ERP system, in order to compare them to pre-defined standards and monitor on-going efficiency. Within the scope of this project we can track production data and performances of more than 300 machines, with the final goal of building real-time Overall Equipment Effectiveness follow-up infrastructure.